Improved Steering: Single Engine Lateral Thruster
At JetBoatPilot, we are constantly working to develop the best and most efficient equipment for the boats we love. We've found that there are a lot of ways to help jet boat steering, and we're proud to have developed a lateral thruster to help in maneuvering left and right without unnecessary propulsion.
We created the Lateral Thruster to solve the issue of poor turning quality in slow waters. Utilizing lateral thrust, a jet boat can move side to side with minimal transition time between directions. It's as easy as turning a steering wheel even in slow waters. This makes it much easier to utilize turn in no-wake zones and when docking, helping with bow wandering by using only small amounts of propulsion.
How Does Lateral Thrust Work?
For lateral thrust to work, we developed an attachment to the jet boats' backs that shifts the jet out and to the side of the boat instead of directly underneath. This improves the jet boat steering by giving more immediate and accurate propulsion. The jet boat applications are easy to install and simple to utilize.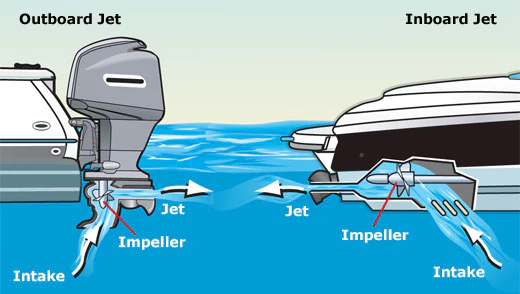 The Prototype Design
Originally, we thought lateral thrust required that moving parts be installed. Although it doesn't necessitate any kind of steering cable, it did have a set of check valves to aid in channeling the thrust in the direction desired.
In the single-engine Lateral Thruster prototype, there are two areas for the jet boat steering propulsion to escape, creating the specific direction of thrust. This prototype was designed exclusively to force thrust, and we utilized internal check valves to close off one of the two areas to ensure that all of the thrust would be forced in the correct direction.
What We Discovered
We initially believed that the check valves were absolutely necessary to prevent water from escaping out of the inactive outlet during a turn. In later development with this single-engine Lateral Thruster prototype, we found that using the check valve's movement to completely shut the jet into one side aren't actually necessary jet boat accessories.
The steering system doesn't need this kind of extra direction - or any movement of parts, for that matter. During testing, we noted that the thrust was not escaping out of the opposite inlet and that only minimal thrust was expelled from the inactive outlet, opposite to what we thought.
It completely removed our concern that thrust would be dispersed and make steering more difficult. Both of the two steering arcs in turning left and right are unimpacted by the area staying open. Simply using the direction of the jet is enough for jet boat steering to be improved.
Upcoming Finalized Product
The newly revised Single Engine Lateral Thruster from JetBoatPilot features a set of permanently fixed interior walls without check valves. It is designed exclusively without these moving parts so that the jet boat steering system doesn't have any additional steps, is intuitive, and is more durable and effective than other systems.
The design of the Lateral Thruster's interior walls is perfect to redirect the propulsion and start thrust moving in the desired direction. The thrust bounces off of the back walls and escapes out of the active outlet without any loss of power, creating an efficient and effective steering system.
Because it has no moving parts, it takes virtually no additional effort to use the Lateral Thruster. It is also extremely easy to install, fitting snugly on almost all Yamaha jet boats with minimal mounting hardware needed. The design does not create any drag and doesn't impact the same amount of precise turning you would expect at high speed.
Cross-Compatible
Our Lateral Thrusters are completely compatible with our Thrust Vector for even more precision in no-wake zones. These jet boat accessories provide similar help to the fins, instead utilizing propulsion for improved jet boat steering.
We have seen 100% effectiveness and zero damage reports from our Thrust Vector, and we expect the same results when individuals utilize them together - so much so that we extend a limited warranty. Although the parts will also be sold separately, we will have a bundle on our site for a very affordable price.
All of the jet boat applications powered us to create this system as easy-to-use and useful as possible, and we're hoping to see as much enjoyment as we get from using it on the water ourselves.
Coming 2018!
We have since moved to production with this revised version and will be receiving the first articles for validation and approval in a few days. Once completed, the production run will begin! We anticipate receipt of production quality inventory mid to late April 2018, and then it will be on our site for you to check out for yourself!
We know that this solves the issue of poor turning quality in slow waters and how easy it is to use, so we're excited for you to experience the joy that we've had with this additional help on your jet boats.
---